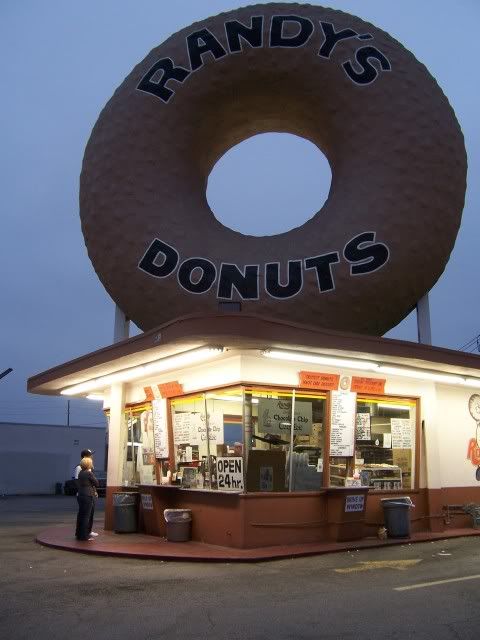 Well it's been five years, and I can finally say I've been to Randy's donuts. Why it's taken me so long, I can't say. But it was definitely worth it. Just the roadside kitsch of it all made me happy to be a residential tourist.
I'll preface this by saying that normally I try to make the L.A. pilgrimage on a day when there's ample
SoCal
sunshine. Hell, the day started off beautifully, but for some reason on our way home, the overcast rode in like the Four Horsemen (things were going great while I was driving through Long Beach ... Inglewood apparently had other ideas). But that's what made the stop so great. As a card-carrying member of the Dirt People (desert dwellers), we haven't had a drop of moisture in
months
. Man, I can't even
remember
the last time we had rain. So just the first sign of a cloudy and/or angry sky just fills my soul with boundless optimism (sure, nothing came of the gray sky, but the false promise is what we live for!).
So in the spirit of wishing for water from the heavens, here's a dreary picture of Randy's Donuts! And should I do a "Roadside California" post in the near future, I'll actually throw in some history behind the place.
Until then, back to the land of
brushfires
and infertile soil!