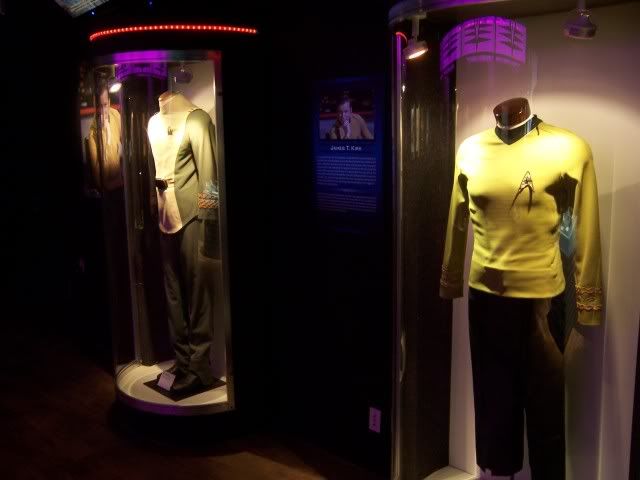 If you're a Trekkie and love looking at musty old costumes in glass cases, then get ready to part with some greenbacks. Star Trek: The Exhibition is currently running at the Hollywood and Highland complex through Dec. 27
th
.
I'm not gonna lie - I'm a Trekkie (mostly
TNG
), and I'd been to the Exhibition when it was at the Queen Mary Dome in Long Beach, last year. The good news is that it's back in Southern California for anyone who missed it. The bad news is that the venue is
considerably
smaller. There were more than a few attractions that were M.I.A., this time around. Most notably the Original Series bridge (Kirk's chair was there, but it's surrounded by a green screen - so the rest of the bridge is superimposed for photo ops).
The star attraction in this venue is the bridge from The Next Generation - complete with
Picard
mannequin and clips from this year's
Star Trek
playing on the
viewscreen
. It's pretty cool to walk around the bridge - although it was a lot more brightly lit on the actual show (
photogs
beware).
http://www.startrekexhibition.com/