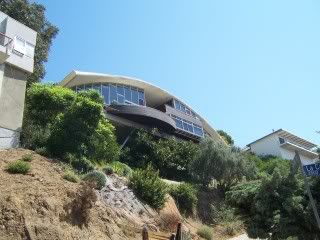 Anyone who's seen
Lethal Weapon 2
knows this house. Riggs (Mel Gibson) tied his truck to one of the support beams and proceeded to rend the structure from its very perch on the hillside.
Built in 1962, the Garcia House was designed by famed architect John Lautner. Located at
7436 Mulholland Drive
, the house hovers over the hillside, using two V-shaped beams planted in the ground. This cantilevered approach is not uncommon in the Hills, where houses literally hang over the edge of the hill, seemingly suspended in space. Along with the Chemosphere (Malin House), this is a great example of California Modern architecture - shaped, in part, by Lautner.
You can see the front of the house while driving on Mulholland Drive, but this picture was taken from La Cuesta Dr., just southwest of the Mulholland.