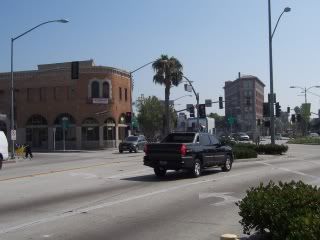 In the movie
TRON,
Jeff Bridges' character, Kevin Flynn, lives in a small apartment over an arcade he runs in his spare time.
Most of the filming locations used in the movie are in Northern California. But for Kevin Flynn's apartment, they used a modest brick building in Culver City. On the commentary, Director Steven Lisberger mentions the building was across the street from the old MGM lot, which is now the Sony Studios.
Not much has changed since 1982. The only thing missing is the 'Flynn's Arcade' sign above the arched windows. The building is located at the corner of
Washington Blvd and Watseka Ave
(just down the street from Sony).