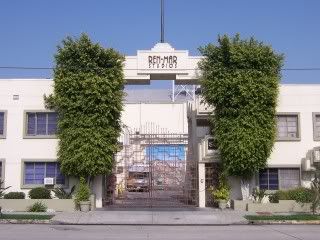 The first location in the movie is
Ren-Mar Studios
, standing in for Maroon Cartoons. A more detailed history can be found
here
, but the studio gained fame in 1953 when it became Desilu Productions. And since then, it's been home to many television productions and music videos. This picture was taken in 2006, and even today, the studio doesn't look much different than it appeared in the film.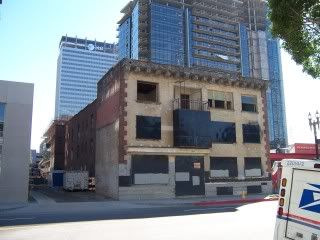 After his meeting with R.K. Maroon, Eddie is seen boarding a trolley back to the
Valiant Detective Agency
. His office building still stands, although much of the street as changed dramatically (and with the fire damage seen in the picture, it's amazing it's still standing, at all). The Terminal Bar across the street is no more. In its place now stands a parking structure. And much of the surrounding area (only a few blocks southeast of The Staples Center) continues redevelopment.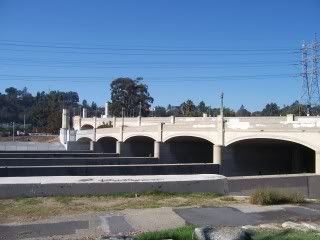 Later in the film, as Eddie and Roger escape from the Weasels, Benny the Cab hops a bridge and speeds off. This is the Hyperion Bridge, in Glendale. As pictured, the bridge hasn't changed much in appearance from 1988.
Rounding out the last of the L.A. locations in the movie is the River Road Tunnel, serving as the entrance to Toontown. The tunnel is located on Vermont Canyon Rd (you'll drive through it on your way up to the Observatory). A little set dressing was used on the mouth of the tunnel for the Toontown entrance, and it still looks like it did when the movie was released.
My directions for getting to the Tunnel were from Los Feliz Blvd. From Los Feliz Blvd, go north on N. Vermont Ave., which will become Vermont Canyon Rd. when you pass the Greek Theater. Stay on this road through a few twists and turns, and you will approach the Tunnel.
The tunnel was also used in
The Adventures of Buckaroo Banzai Across the Eighth Dimension
(Peter Weller zooms out the opposite end on a Harley), and again in
Zemeckis' next feature,

Back to the Future Part II

(this is where Biff tries to run down Marty in the Ford).