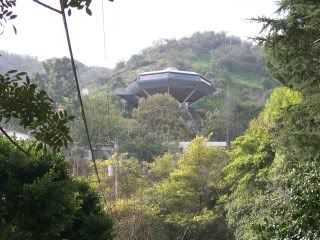 On a list of great movie houses, this one sits at the top (right near the
Sleeper
House, and the Ennis-Brown house). Movie audiences were first introduced to the
Chemosphere
in Brian De Palma's
Body Double
(easily the movie's best part). But the house was a feat of engineering twenty years before that.
In 1960, John Lautner was commissioned by engineer Leonard Malin to build a house on a piece of land he inherited in the Hollywood Hills. The property offered sweeping views of the San Fernando Valley, but no solid foundation for a house (not much more than dry rock and a steep hill). Lautner's solution was both rushed and technically impressive: an octagonal structure sitting on a concrete post, several hundred feet above the ground. The residence is accessible by either a lengthy stair climb, or rail car.
If you can make the pilgrimage into the hills (although I wouldn't suggest driving on Mulholland at night), it's
definitely
worth it. Just making the turn onto Torreyson Drive and seeing the space ship hovering in the trees makes this one of the most surreal and amazing sightseeing trips L.A. has to offer. The Chemosphere is located at 7776 Torreyson Drive, just off Mulholland Drive.